Back in February, Google made it official that pay-per-click (PPC) ads would no longer be shown to the right of organic search engine results. And marketers (especially those of the digital variety), panicked.
Not nearly as dramatic as the Panda update years before, the removal of sidebar ads had several implications—some more potentially threatening than others. And while Google (in usual fashion) made generic promises that altering the status quo would lead to search improvements and a better UX, the marketing ecosystem noted two immediate changes:
Top ad positions jumped in price and competitiveness
Organic search results were oftentimes pushed below the fold
Fast forward 4 months later and the results of the change aren't nearly as disastrous as predicted. However, there is still an important lesson to be learned: a multi-channel marketing strategy, incorporating both traditional and digital tactics, is the best hedge against sudden changes in online advertising and the irrespective ad networks.
In this post, we answer some of the top questions for direct marketers in this post-Google-side-ad climate and list actionable insights for creating a highly effective multi-channel strategy.
Get Physical
Before we jump into direct marketing tactics, it's important to answer the most obvious question taken from Google's change to PPC: is this the right time for a direct mail initiative?
Historically speaking, the allure of digital marketing has been the low barrier to entry and granularity (ability to target).
As the paid online space has become more expensive (and crowded) through Google's recent change, direct mail now becomes an attractive option for marketers seeking to stand out and gain a competitive edge.
And for those concerned about targeting and relevancy, print tech has made considerable strides in the past decade. 4-color variable data printing (VDP) puts data directly in the driver's seat, intelligently producing unique, one-to-one direct mailpieces faster and more efficiently than ever before.
Put Your Money Where Your Mail Is
If you're already including direct mail in your marketing mix, Google's change may find you either increasing your PPC budget (to maintain impressions and clicks) or shifting your digital efforts (from organic to paid).
Whichever side you fall on, the most important thing to remember is that paid online efforts need to be scrutinized even further to remain effective. And in the context of direct marketing, this means that the strategy and timing of synchronous PPC and direct mail campaigns will now be a determining factor in multi-channel success.
Here's three ways we can help you get started:
Scheduling & budgeting: match your online spend and ad schedule with DM
in-home windows
Location-based targeting: match online media to exactly where your mail is hitting
Aligned messaging, offers and creative: include top performing keywords from your online campaign in your direct mail copy
Many businesses too often think of direct mail as a siloed, single-minded marketing tactic, i.e. to be used in generating a phone call. In fact, we have seen DM augment digital marketing tactics exceptionally well.
Recent advancements in technology now enable marketers to know exactly when their direct mail is being delivered and how to use this data as a basis for executing highly effective paid online campaigns.
SHARING IS CARING
By far the most intriguing conversation coming from Google's paid ad change is whether or not SEO still holds the same weight in search marketing. In fact, one of the determining factors behind Google's decision was that users could not distinguish between top paid ads vs. top organic listings.
And while organic search remains one of the most important forms of earned/owned media, the question now is how can marketers (and brands) offset lower visibility in paid search and potential losses in traffic.
One potential answer: social.
It's widely accepted that social media interactions, in particular social sharing, correlate directly with quality scores—it can be safely assumed the more shares, engagements and "likes" around a piece of content, the higher the quality.
And it's this quality that correlates with higher rankings. Although Google doesn't explicitly state how their algorithm factors in social, the brightest minds in SEO agree that a strong social presence affects the quality of backlinks and search engine ranking.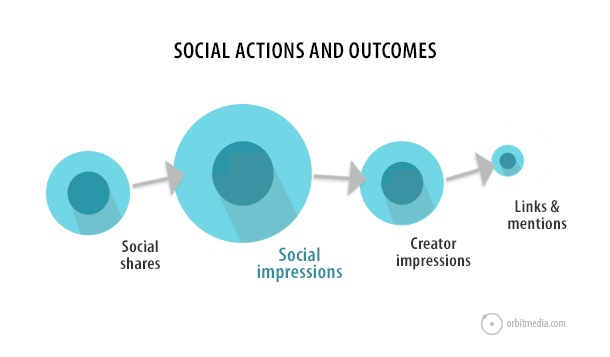 For those brands leveraging direct mail, this means driving traffic to social sites to increase engagement and promote digital content to increase search ranking. Not to mention, consumers place added emphasis on those brands that are actively cultivating their social presence—less than a couple thousand followers and an abysmal follower-to-following ratio and you might be out of the running.
As discussed earlier, the rise of 4-color variable data printing allows every piece of direct mail to be unique to its intended recipient—this can be extremely powerful when including social media icons and handles on your DM. Seeing as certain social channels resonate differently with certain demographics, 4-color variable data printing can allow each and every segment (and corresponding mailpiece) to contain those relevant social sites. Millennial-only? We know it's Instagram, Twitter, and the new contender, Snapchat. Older working professional? Facebook and LinkedIn are your best bet.
Note: This could be particularly useful in a consumer loyalty DM campaign where the goal is increased engagement/retention, but could also be included in acquisition campaigns to create a lighter "touch" to the actual offer.
Extend Your Presence
Now that top banner placements are the only available real estate (and in an increasingly expensive/crowded space), marketers will have to leverage AdWords extensions to truly stand apart.
Ad extensions, such as structured snippets, site links and callout extensions could be the determining factor in having a click through leading to conversion or merely an impression. These small add-ons within PPC campaigns do not incur any additional costs and have been shown to dramatically increase effectiveness.
For direct marketers, this means carefully planning direct mail campaigns (in particular, copywriting and landing pages) around the inclusion of these extensions.
For example, callout texts (which are essentially the benefits of the product or service) should be aligned/factored into the DM copy and messaging—if people decide to take a step back from the direct mailpiece and instead, search your bid-KW, the callout text will be aligned with DM messaging and vice versa. This subconscious level of familiarity might make you the clear-cut winner in a consumer's search query.
In similar fashion, site links are a surefire tactic to increase traffic for a particular DM campaign. Driving online and offline traffic to the same offer/landing page (in this case below, Pizza Hut's Fight Night) will ensure that your multi-channel strategy is focused, congruent and as effective as possible.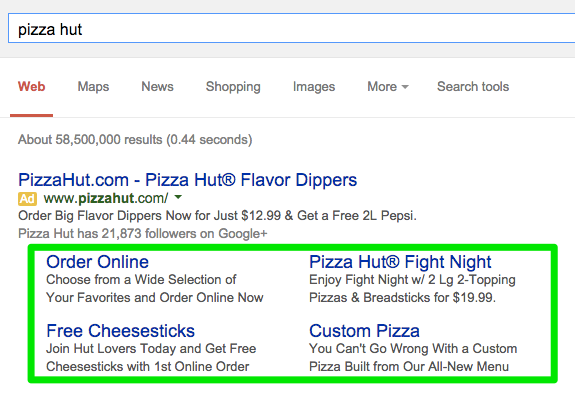 In closing...
Although we have effectively navigated Google's paid search change, it's only a matter of time before another change has all marketers scrambling once again.
That said, our best tactic for hedging against changes in SEM is creating an agile, multi-channel marketing campaign that aligns digital and traditional tactics in a seamless way. Ensuring the use of 4-color variable data printing and continuously distilling PPC campaigns with direct mail reporting insights (and vice versa), is a surefire way to create hyper-relevant messaging and stay ahead of the marketing curve.
Published on
July 12, 2016