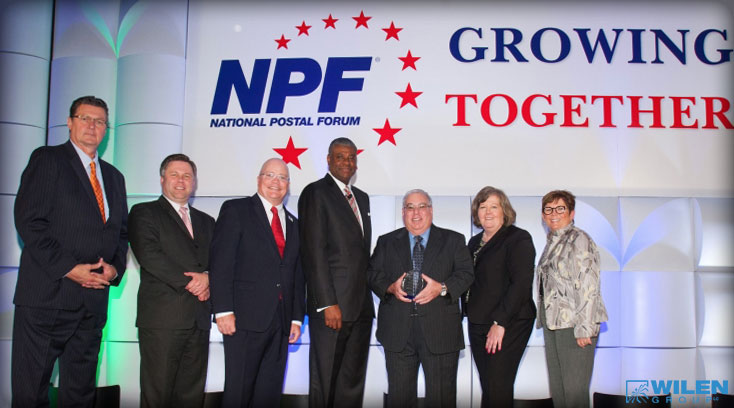 The manufacturing arm of Wilen Group won big at the annual National Postal Forum in Anaheim, California this week!
The National Postal Forum is the nation's largest mailing and shipping conference, attracting over 4,000 attendees representing all facets of the mailing industry, including brands, direct mail service providers and executives from the US Postal Service. The 2015 NPF conference was a four-day event designed to lead mailing and shipping professionals to the right resources, workshops and industry alliances to grow their business. Attendees had the opportunity to meet and collaborate with industry leaders and hear from Megan Brennan, the 74th Postmaster General who delivered the opening keynote address to the industry on Monday.
During the conference, Wilen Direct was recognized by the USPS with its prestigious 2015 Mail Innovation Award. The award is one of only three "best-in-class" awards that the USPS presents to companies that have demonstrated leadership and innovation in the industry with creative use of postal products and services. We were specifically recognized for piloting new USPS programs and our unique production processes that enable us to maximize postal efficiencies for our clients. We were also recognized for our volume, with our overall output of variable direct mail rivaling some of the industry's largest, global printing conglomerates.
Our very own Tom Glassman was on-hand to accept the award. We are very proud of our team at Wilen Direct and grateful for the USPS for recognizing our invaluable partnership. Printing Impressions magazine picked up the story, you can read their coverage here.
Published on
May 21, 2015