The average office worker sends/receives 122 emails every day. Based on a 9-to-5 workday, this equates to a new message every four minutes. Everyone has their own strategy for dealing with the overwhelming volume of emails they receive on a daily basis...but prioritizing, organizing, and of course, responding to emails can feel like a full-time job itself. So it's easy to see the need and market potential for productivity solutions like Slack.
Slack is one of many project management and productivity solutions. Rooted in the concept of intraoffice collaboration (with added functionalities such as chat and file sharing), these platforms are designed to eliminate communication downtime and make teams more efficient. And while these systems have enormous upside potential from a productivity standpoint, the Slack's of the world have been causing a bit of friction amongst B2B email marketers.
In this post, we flesh out the implications of intraoffice collaboration tools on B2B email marketing and explore five suggestions for overcoming this adversity.
Far From Slacking
At a roughly $3.8B valuation (with no slowing down in sight), it's clear that Slack is a valuable platform with real long-term viability. What was once strictly an internal tool used by gaming startup, Tiny Speck, Slack has spun off and become somewhat of a staple in the business community.
Over the last few years in particular, Slack has gained considerable traction and deep engagement amongst its user base—growth rates have doubled every quarter and daily average user engagement hovers around five hours. Slack has even been adopted by 77% of the Fortune 100, which is usually a good litmus test for success.
With statistically significant benefits (as seen below), it makes all the sense in the world why a company would adopt a software that has the ability to bolster productivity, kill downtime and eliminate distraction.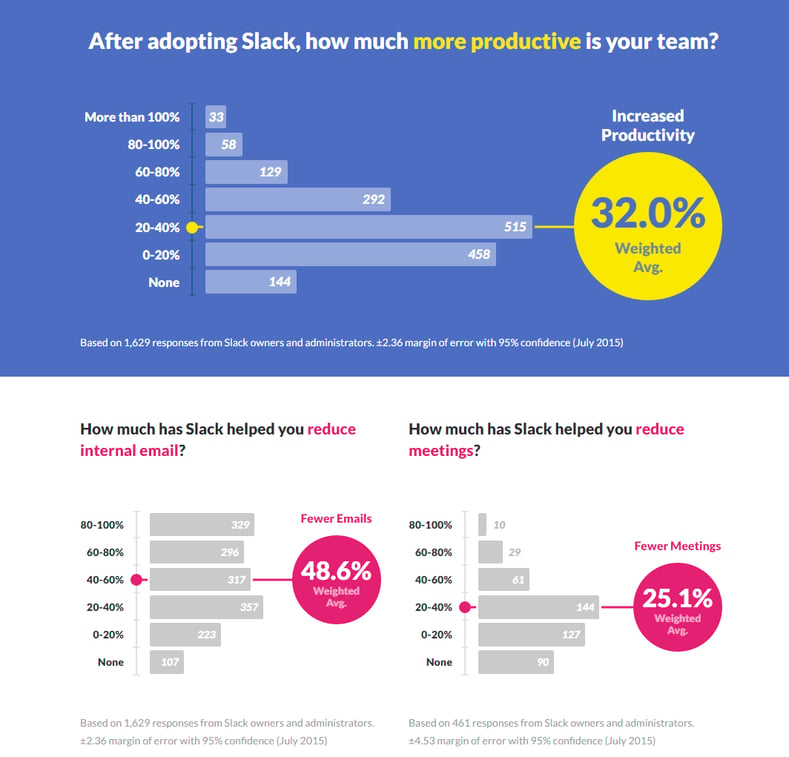 As more and more businesses adopt platforms that increase productivity by reducing the amount of time employees spend on email, the problem becomes obvious...if employees can accomplish all of their daily tasks in a closed-loop Slack "channel," they are inevitably looking at fewer marketing communications that land in their inbox.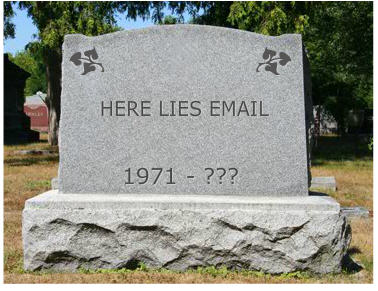 So while these new innovations are great for corporate productivity, it's not so great for the email marketer seeking CTRs and conversions. So what's a B2B email marketer to do?
5 Alternatives to Traditional B2B Email Marketing
1. Make the call
Traditional cold calling is not for the faint of heart, and many would argue against its effectiveness. However, with the networking tools and information available today, a warm-call approach could be all it takes to open new doors. The proliferation of robust CRM and reporting tools ensures cold calling is never "cold" anymore—there are always insights to be gleaned from even the simplest of Google or LinkedIn searches. In fact, "proactive prospecting" has been shown to contribute 5x higher engagement and 30% higher conversions than warm-calling alone.
2. It's easy to ignore your inbox, but it's nearly impossible to ignore your mailbox
Direct mail is an intimate and highly trustworthy channel and while you can unsubscribe from an email list, you can't necessarily unsubscribe from the USPS. Not to mention, new advancements in print technology have made direct mail more efficient and relevant than ever before—you can deliver a message with the same level of data-driven personalization as an email, with targeting granularity typically associated with Google and Facebook's paid platforms.
3. Become a familiar face
Display advertising gets a bad rap for generally poor click-through and conversion rates, but any marketing channel is only as good as the tactics that are deployed across them. Some of our clients employ some truly unique display advertisements. Combined with the targeting solutions that are available today, you can spend where and when it matters, across a variety of devices. Warming your audience up with targeted display advertisements prior to sending a physical communication helps ensure your message is recognized.
For example, just because employees are making less use of their email client, there will still be time (and necessity) for Google search queries (2.3M per second to be exact)—in this case, be sure to set AdWords (PPC) campaigns that take into account Google's recent change.
For SEO/content marketing, develop and publish unique and authoritative content around the topic that your direct mail offer falls within. For example, if your product is a CRM service, your content should speak to fundamentals and benefits of CRM. When your consumer comes in contact with your direct mailpiece, he/she will already be familiar with the concept and find themselves farther down their buyer journey and, therefore, more receptive to the actual sale.
For social media, ensuring your ad copy is aligned with direct mail copy (for subconscious word recognition and familiarity), is the one-two punch to capitalize on a synchronous direct marketing campaign. Even if people are spending a majority of their workday within an intranet/communication platform, you can be sure they will always make time for checking their social media timeline.
4. Stick to the subject
The importance of the subject line can never be overstated: as much as 33% of email recipients open an email on subject line alone. As Slack and other intraoffice collaboration tools permeate the business landscape, any email being sent will have to be carefully crafted and more compelling than ever. We recommend testing a multitude of subject lines in every email deployment so you can learn fast and optimize constantly.
5. Follow the conversation
Less time sifting through email could very well equate to more time sifting through social media platforms. We're not suggesting that office workers are wasting company time on Facebook and Twitter...but we do suggest you research what type of online communities or platforms your audience is engaged with. Participating in industry discussions via LinkedIn Groups or other publications/social sites is a great way to raise your visibility and build your network. It can also be a great platform for sharing content, driving organic traffic to your website and becoming seen as an authority in your business niche.
In Closing...
While the benefits of productivity platforms are undeniable, this new challenge to delivering your message and connecting with prospects and customers is no reason to slack on your marketing efforts. As always, we're ready to help B2B marketers formulate new ideas and strategies for reaching their audiences.
Published on
September 26, 2016