Fifty years ago, Richard Wilen founded a small business creating program guides for the then-burgeoning cable television industry. His foresight into the promise of new technology laid the foundation for a company that would, by 2021, be at the forefront of direct mail innovation.

Today, the Wilen Group is one of the nation's leading direct mail companies — using data-driven creative solutions to power cutting-edge printing technologies and create some of the most impactful, targeted, personalized and innovative direct mail in mailboxes across the country.

From our humble beginnings in 1971, we've grown into one of the most respected full-service direct marketing agencies in the U.S., employing a diverse group of team members and experts in everything from data, strategy and creative development to production and variable technology. And with three locations across the U.S., we are now uniquely positioned to be faster and more responsive than ever before, reaching homes in 1-2 days nationwide.

We are proud of the legacy we continue to build every day. Our core principles and time-tested policies of good business, combined with our determination to remain on the cutting edge of technology, allow us to exceed our clients' needs and expectations every day. And it's this
combination of ideals that will continue to lead us into our next 50 years.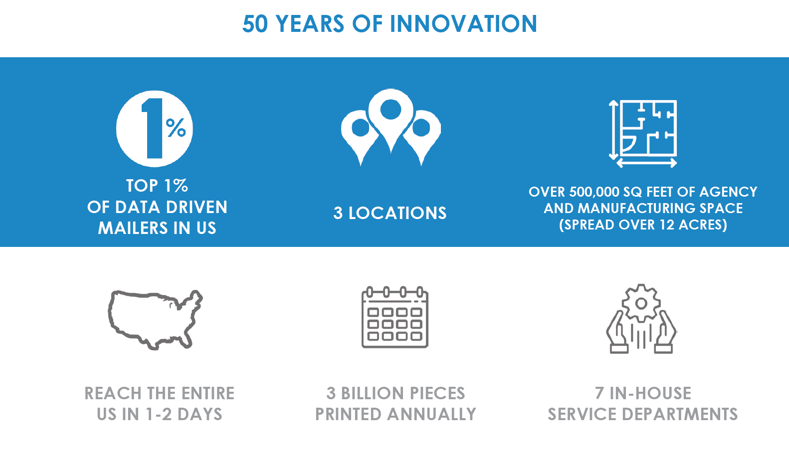 Published on
April 16, 2021